Businesses are using audiovisual content to keep their audience engaged and also increase their conversions. Recent consumer behaviors show that most consumers prefer watching 60 seconds video about a product to reading an article. Social media platforms have significantly reduced our attention span. To hold the attention of your potential clients, you might have just seven seconds, or they will move to the next product and not make a purchase. That's why affiliate marketers need to incorporate audio-visual content in their marketing strategies and practices.
Affiliate Marketing
What is affiliate marketing? Defined as a situation where a retailer offers an agreed commission to a third party in exchange for online traffic or successful sales generated by the third party's referrals. Affiliate marketing has turned out to be a popular marketing tactic for eCommerce businesses. Many businesses prefer affiliate marketing since it's performance-based. You are only paid your commission for successful conversion. It also offers a beautiful way of earning passive income from home.
Businesses can also increase their brand awareness in the online community through affiliate marketing. Partnerships with famous individuals and brands make it easier for companies to boost their brand reputation and audience. However, to effectively use affiliate marketing, you have to think outside of the box. Many businesses are using affiliate marketing to expand their brand and market their products. To stand out, you need to come up with different strategies. One practical technique of increasing the effectiveness of affiliate marketing is using video content.
Social media platforms have become popular with audio-visual content showcasing all kinds of products and services to the online community. Thanks to social media features like stories, and status, consumers can share product videos to their audience and even contact lists. If you are not using videos for affiliate marketing, then you are definitely missing out.
Why You Need Videos In Affiliate Marketing?
According to an article published by Forbes, almost 90% of consumers depend on product videos when making a purchase. Videos play an essential role in increasing the conversion rates of affiliate marketing and raise brand awareness. Without a product or service video, you are losing many possible conversion rates through affiliate marketing. The current consumer spends more time watching online and offline videos compared to reading.
There are different types of affiliate marketing, like:
WebMasters
Social Media Influencers
Incentive or Loyalty Programs
Search Affiliates
Coupon Websites
Email Marketing
Bloggers
Review Websites
You can pick as many as possible, depending on your marketing strategy. How do you up your marketing game using videos? You can introduce the following techniques into your affiliate marketing when you decide to incorporate video content:
Video sales letter: offers a complete list of your products and services to your current and potential customers.
Product reviews: an effective way of showing your customers that they will be getting the value of their money. You showcase the usability and quality of your products.
Video portal for your subscribers: offers helpful videos to your clients.
FAQ videos: addressing any query that your customers might have about a product. The FAQ video content can also use it to guide the buyers on how to troubleshoot a product.
Thanks to many video-making tools and software, creating video content is very affordable. You can use free online tools to create engaging and eye-catching video content for your products and services. You can create professional video content by yourself within minutes. There are different platforms that you can use to execute your affiliate marketing strategies using audio-visual contents.
Where to Share Your Video Content
Every business needs to understand its current and target audience thoroughly. Tapping into your audience can be done via various social media platforms. Different people use different social media platforms when it comes to interaction with the vast online community. You will need to share your videos on these social media platforms. Businesses with a strong following on their social media handles and affiliate websites can post their videos on these platforms.
The downside of posting videos on your WordPress site is that it will likely affect the performance of your website. Large media files tend to slow your website. Posting exclusively on social media is also risky; viewers will quickly forget older posts over time. Forgotten videos will have low conversion rates. To deal with these challenges, it's best to use video platforms like YouTube as well.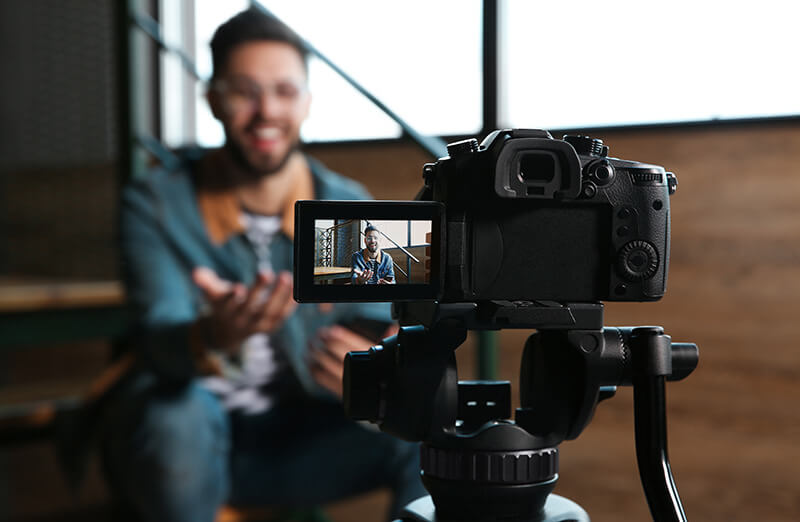 With video platforms, you can embed the video content link on your website with zero effect on the website's performance. It also provides a section where your buyers can easily find the content at all times. YouTube has turned out to be a prime spot for affiliate marketing with access to a vast global online market. YouTube receives two billion logged-in users daily. There are also ads and shared links which you can use to monetize your video content even further. TikTok is another video content platform that has gained global popularity and can be utilized in your content strategy.
TikTok is a platform where users can make fun and entertaining short videos. Unlike YouTube, TikTok videos are short. The popular mobile app now allows users to link their viewers to third-party websites. Other common video content platforms to consider are Facebook Live and Instagram Reels.
Essential Tips When Using Videos for Affiliate Marketing
There is no definite way for one to use video content for affiliate marketing. Still, you can incorporate the following tips to increase your chance of success.
Having a clear and precise CTA (call to action): Call to action is a straightforward way of finding what your audience needs to do after watching the video. CTA offers a way to build your audience through online engagement. There are different types of CTA that one can use in their videos:
Subscribe
Read more about the product or service
Information on offers and coupons
Give feedback or comment
Social media link to follow
A call to action usually is placed at the end of your video.
Optimizing your videos for search engines: This increases traction on video content platforms like YouTube and search results on search engines. Businesses can use keyword research and transcripts to optimize their video content online. Create brief and valuable content for your audience.
Being brief, informative, and engaging. The human attention span is concise; your videos need to be quick and precise about your products and services. Longer videos require you to keep your viewers hooked. You can promise your viewers a reward at the end of the video to keep them watching if your video is longer.
Conclusion
Thanks to advanced technology, integrating videos into your affiliate marketing strategy is cheap. To create engaging videos, you will need creativity and a clear understanding of your customer's preferences and needs. Emotionally charged videos tend to attract plenty of views and shares online. Creative videos that can connect with your audience emotionally will attract more views.