RichAds is an advertising aggregate and campaign management service. Here, you can build and distribute many ad types to various platforms. A recently revamped website provides a fluid, organized way to keep track of all your campaigns, automatically cancel campaigns that aren't meeting standards and push campaigns exceeding them. With a vast array of metrics, constantly updated statistics, and an experienced cast of experts and support staff, RichAds is a useful resource for experienced and new business owners.
Who Are RichAds?
RichAds was founded back in 2013 as Platform.io, a white label Demand Side Platform. In 2018 they launched a new service focused on push advertising and became RichPush, before adding RichPops and RichNative in 2019. In 2020, with their ad trifecta completed, they rebranded to RichAds and placed all their services under one roof.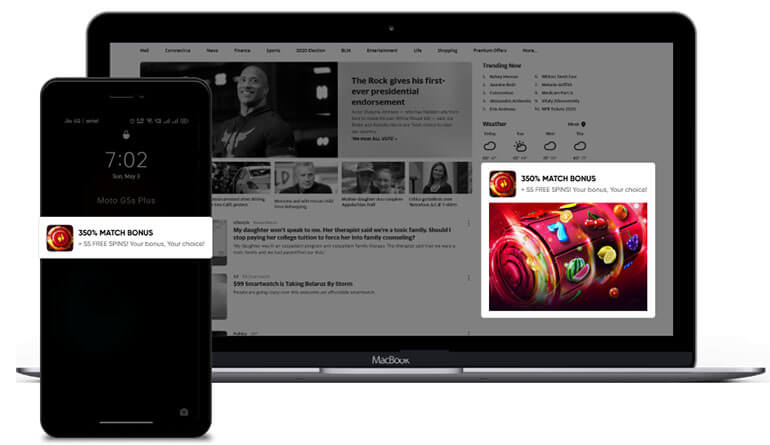 Since their inception as Platform.io, RichAds have been at the forefront of digital advertising campaigns. They focused on creating a platform that automated away as much of the stress of campaign management as possible. As of 2020, RichAds are reaching 200 countries and making over 4 billion daily impressions, ranking their network volume among the world's highest. So how does their website function? How do they stack up against the competition?
What Does RichAds Offer?
Multiple Ad Types
The basic RichAds account can choose between two ad campaign types: Push and Pops. Push ads are your banners and embedded videos - the ads you see when scrolling through a page naturally. Pops are ads or media that open in an external window.
Click on your choice, and you will be asked to input your creatives. These are your pre-designed ads, the media you want to distribute to websites. Tell RichAds what websites you want to advertise on. Then you can ask for specific placements on those websites, request only to run your ads alongside particular content, and discuss with staff members what directions you think will be most effective.
Premium accounts can access Native advertising campaigns. Native campaigns create content that is similar in tone and form to a website's standard content. Native advertisements attempt to look natural instead of forced.
Impressive Campaign Automation
The most attractive feature of RichAds is the level of automation available to the user. The extensive automation serves several functions. Perhaps most importantly, automation makes it possible to run experimental campaigns without losing money. This protection is welcome in an industry as ever-changing and volatile as advertising.
You can boost ads that are performing well using funds from your wallet or shut down disappointing campaigns immediately. The same is true if an ad isn't getting a set number of clicks or if the clicks it generates don't generate sales for your site. Representatives can help you select any number of metrics for your ads to help boost performance.
RichAds also has built-in screening for the clicks that your ads do generate, ensuring foot traffic to your website is all genuine and not riddled with bots.
Wide Variety of Campaign Metrics
You can view campaign statistics at any time on the Insights panel or Campaigns page. Here are just a few of the metrics they have on display:
Clicks by Geographical Region
Impressions by Vertical
Impressions by Device (desktop, mobile, tablet, etc.)
Searches by Country
Cost per Click
Clickthrough Rate
Conversion Rate
RichAds: More Experience, More Effectiveness
RichAds does its part to make new users feel welcomed. Their support staff is present and ready to help from the moment you create your account. That said, when no one's around, the website can be intimidating. RichAds rewards experience and effort in their product.
The Beginner Experience
During registration to RichAds, you're required to list a messaging service that can be used to contact you. After registration, you will receive a message from a representative asking you what kind of ads you are interested in running. They will help you get set up with your initial campaigns and guide you through their site functions in the beginning.
This is good because RichAds does not offer basic tutorials outside of the Insights tab. The lack of guidance may be intimidating for first-time users, but there's no need to worry. The representative and live chat functions may be necessary for newer users to get started, but once you get moving, the website is intuitive and easy to understand.
After you start your campaign, you'll even receive recommendations from RichAds about how to target vertical slices of the market, based on ads that have proven most effective in the past. If you're having difficulty coming up with more creatives to drive new campaigns, use the auto generator to push your ideas along. Once your campaigns are performing, use the given statistics metrics to decide how to proceed.
The Professional Experience
Industry veterans will find the site a breeze to navigate. The options you can program into your campaigns provide high levels of flexibility, and automation allows you to manage other projects without the stress of multitasking. When you do check back in, RichAds delivers a wide array of statistics for you to judge performance.
Professionals who utilize the vast array of tools on display will also unlock extra account features. Everyone starts as a rookie, but keep campaigning, and eventually, you may promote your account to Professional or King. These rewards allow you to personalize and optimize your campaigns even further, or reward you with a personal creative team or Ad Expert.
RichAds: Rich in Options, Rich in Performance
There is a reason that the team at RichAds has been successfully expanding their business ever since 2013: they know what works. Their reach is among the best in the industry. The statistics provided will turn anyone unfamiliar with web-based advertising into a statistics addict overnight, and experienced advertisers will welcome the ease of use and wealth of features. We would recommend this site to anybody, fresh to the industry or grizzled veteran.