If the word "optimization" makes you sick, this article is for you. As an affiliate, you need to know some useful tools, that will help you in your job. Maintaining campaigns may be overwhelming and quite exhausting. In case the products you promote are adult content related, you simply have to be familiar with ExoClick. This platform will make your work a lot easier, so you will be able to earn more money from your offers. Here's our ExoClick network review.
What is ExoClick?
ExoClick is the 4th ad network in the world, offering about 7 billion daily impressions. Thanks to this tool you can check and optimize your campaigns, basing on the traffic and many useful information. The platform is very intuitive and easy to use. It provides a lot of data that let you analyze your steps and learn how to do it better and better, to maximize your profit.
What are the advantages of ExoClick?
First of all, it is one of the biggest platforms, distributing over 155 billion adverts a month within an international network of websites. Big traffic and a great chance to reach a huge pile of the audience go hand in hand with additional advantages.
Pros of ExoClick:
self-service – no need to use additional interface;
user-friendly – easy to use;
fully responsive – works well on every device;
detailed reports – all useful data at hand;
offering a SmartCPM tool – allows you to optimize costs and beat the competition;
variation of ads available in different countries – bigger flexibility;
a great support team – ready to help.
Working since 2006, the owners managed to establish cooperation with large organizations such as Birdview, Ladbrokes and 888 Holdings. If the "big fishes" trust them, why wouldn't you?
What types of ads can you do with ExoClick?
The platform offers a wide range of advert types:
Banners
Billboard banners
Native ads
Mobile
Email clicks
In-stream
Popunders
Push notifications
Direct links
Web instant message
As you may already know, the size of the ad is quite important, especially if it comes to mobile offers. Also, different kinds of adverts bring different results.
Here you can find the most popular ones, categorized by volumes (biggest to smallest):
Popunder and Banners: 300×250, 300×100;
Mobile Instant Message, Instant Message, banners: 468×60, 728×90, 300×50;
In-Video, Interstitial, Redirect, 250×250, 120×600, 160×160, 315×300.
Cost and payments
As we already said, ExoClick is a very user-friendly platform that offers a lot of useful features. You can choose from various types of payment methods and also set the cost model.
CPM or Smart CPM?
ExoClick offers the CPM cost model. Depending on your experience, you can choose the standard option or the SmartCPM.
As you probably know, in the traditional CPM model you set the price for 1000 views. Smart CPM will allow you to set the best possible price for your offer.
How does it work?
All you have to do is enter the maximum amount you can pay and the system will do the rest for you. The platform will calculate the minimum rate you have to pay to achieve the best results. The final cost will be determined automatically, based on three parameters: the minimum price for this location, the minimum price for a specific device and the highest current CPM.
SmartCPM is a great way to save time and also to learn. That is why it is an ideal solution for beginners who can learn the secrets of good budgeting in this way.
How to set the budget?
In order to earn some money, you need to make some investments. ExoClick gives you a few choices in the term of payment methods:
Paxum,
PayPal,
Web Money,
Wire transfer.
There are some minimum values in terms of investment you should make. Depending on the type of payment you choose, you need to put:
500€ for the wire transfer,
200€ for the electronic payment.
The dashboard
You will find here the trend charts, your campaign data, and tables. The dashboard is intuitive and easy to navigate.
As an Advertiser you will see here the following categories:
Campaigns – you can set the new one or manage the existing ones;
Statistics – you can check, how your campaigns perform;
Marketplace – where you can search the database of ExoClick by categories and ad type, and buy the space from a chosen website.
Payments – set the payment method, etc.
API – Application Programming Interface.
Statistics and reports
One of the biggest advantages of ExoClick is detailed reports. We all know, how important for the optimization of the campaigns is to know what works for you. You can analyze your data by specific filters:
Period
Group
Display Type
With ExoClick you can group your campaigns and check the data for all of them – together or separately.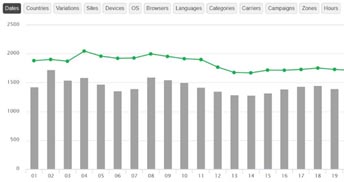 You will receive:
the global report – it will give you the information divided by Countries, Variations, Sites, Devices, OS, Browsers, Languages, Categories, Carriers, Campaigns, Zones, Hours.
the "campaigns by" report – here you will find the details about specific campaign, based on Campaign ID, Name, ad Type, clicks, CTR, Impressions
Basing on the information you get from the reports mentioned above, you can optimize your ads, by:
choosing the devices that work the best for you;
selecting the best and the worst websites (blacklists and whitelists);
delete the weak campaigns.
How to create the campaign using ExoClick?
So you've got the account, you've set the payment methods, etc. Now you want to create the new offer. Here's what you should do:
go to the main Dashboard,
choose the Campaign tab,
click the: New campaign.
The next step is determining the settings of your campaign. After typing the name, you should go to General targeting and choose:
the ad format
the categories
locations
In Advanced targeting, you can set languages, browsers, devices, etc.
Then you should choose your cost model and set the budget.
ExoClick allows you to set the sites that you want to target. You will choose from:
Network section: All, RON, Premium, Members area;
Partner Networks: you can enable or disable this option;
Zone targeting: all, include, exclude.
Choosing every option you will see the traffic estimation. ExoClick will show you how many impressions you may get with your selection.
When you've estimated all the settings, you can create your ad, by going to the Marketing material section. Here you should choose your destination, set the URL, the title, etc.
Summary
ExoClick is a great network, that allows you to manage your campaigns. It is mainly useful for affiliates that use adult sites for advertising. There are many advantages of this platform. You can easily set and optimize your offers, receive detailed reports, use advanced targeting, and improve your settings to earn more.
However, we must mention also about some cons. First of all the interface may be slow, depending on the user amount.
There is also some inaccuracy in traffic estimation. The system indeed provides information about the traffic that you can get, but when you use previously set white and blacklists, the data may be inaccurate. The numbers for traffic for your selection will not change and therefore will not be valid.
You have to make your decision, taking all the pros and cons into consideration. We do recommend this tool for advertising, especially, if your main traffic comes from adult sites. In our opinion, it will be also a great solution for beginners, thanks to easy interface and SmartCPM mode.
Here it is – we hope our review helped you to make the right decision and improve your business.