PopAds is one of the oldest and most reputable ad networks in the affiliate marketing industry. The service is designed for both publishers who want to make money from their website or blog as well as advertisers who are looking to buy ad space.
In this review, we'll cover the registration process and the details of each account on this network. We'll discuss how to use this service and the earning potential involved and how you can take advantage of its wide variety of inventory and traffic controls.
Getting Started
It's incredibly easy to get started with PopAds, and once you do, it's simple to understand.
Registration
It only takes about two minutes to register for an account. Whether you're signing up for an account as a Publisher or as an Advertiser, you'll be prompted to fill out a form with ten standard fields of inquiry.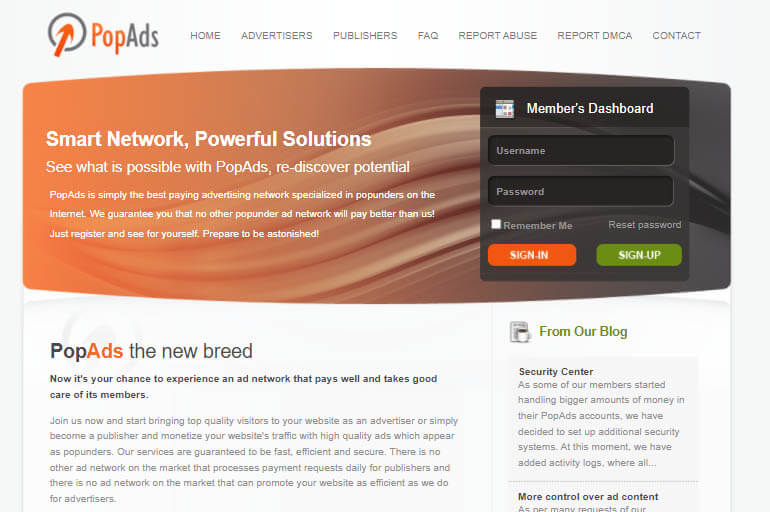 The approval process is also fast. You should receive a confirmation email within twenty-four hours after you apply.
Dashboard
Once you have signed up and been approvenud, you'll be able to enjoy the seamless and intuitive interface. you'll find a range of features to help you build and run a successful campaign.
The dashboard is divided into three sections. You'll see an Advertiser's Panel, a Publisher's Panel, and an Account Manager.
Let's go over some basics so you can understand all of the functionalities and tools that PopAds include helping you make some profit.
PopAds for Advertisers
PopAds is a fantastic tool for advertisers who want to increase traffic and set up their campaigns to target a wide audience from an inventory of over one hundred countries.
The popular network offers ads for both mainstream and adult content and four different ad types:
Popunder
Popup
Tab under
Tabup
It's easy to launch a successful campaign. PopAds provides tools that will help you stay on top of your metrics and ensure that you're reaching your fullest advertising potential.
Launching a Successful Campaign
Before you create a campaign on a traffic source, it's a good idea to have an understanding of available inventories. You'll even have access to the US, which is a hyper-unique and very lucrative target location.
Turkey, Brazil, France, Italy, Germany, the United Kingdom, Mexico, and Thailand also come with high-traffic and bids. In PopAd's Inventory section, you'll be able to see the volume list as well as some useful data points for each.
Once you select your offer and go through a setup process, you're ready to create a new campaign. Click the button on the left side of the menu and get to it. Let's go over what each option means.
General Information
When you begin the process of creating a campaign, you'll navigate to a "General Information" Tab. Here, you'll be able to set aspects of your campaign, such as name and URL. You can either set a single URL or multiple.
You'll also have access to a control called 'landing page prefetching.' With this feature, you're able to speed up the loading page of your landing pages. The platform will do this by telling to user's browser to start loading your URL faster.
As most advertisers know, time is of the essence with pop traffic, since users generally try to close them as soon as possible. The faster yours is loaded, the more chances that you'll make an impression.
You'll also be able to select the quality of your target websites. PopAds algorithm assigns sites a quality score based on feedback from advertisers. You can choose to target all websites or only those ranked in the top 10% or 20%.
You must choose the quality carefully. If you pick only websites of high-quality, you'll pay more but receive less traffic.
You'll be able to set a frequency cap that will determine how often one person should see your landing page. You also have to establish whether a campaign will load without a referrer and if it will include users with AdBlock enabled.
If your advertisement contains adult content, you'll have to specify this here.
Bids and BudgetsIn this section of your setup, you'll be able to select whether or not you use a smart bid or the legacy big.
The smart bidding system is designed and managed by the platform to optimize traffic. You can set a limit on the maximum bid. With the legacy bid option, you'll be focused on minimizing traffic costs. While this is cheaper, it will limit the traffic that you receive.
You'll have to set a bid for each pop ad, as well as a daily budget and a total campaign budget.
Throttling
The throttling tool is used by advertisers to limit the speed of impressions they receive. You can enable automatic throttling, where the platform will limit the speed of impressions based on a goal that you've identified. If you decide to disable it, you'll restrict the percentage manually.
Targeting
One of the best elements of PopAds is its vast selection of targeting options and settings.
Categories
You'll pick the categories that you want to target on your campaign. If you're launching a mainstream ad offer, you'll select "General" or pick out different categories. There are also categories specifically for adult content.
Country, Society, and Time Targeting
You can easily choose the country that you're targeting with your campaign, as well as the languages, the size of the population, and the timezone. You'll also want to select the days and hours that your ads will be active.
Device Targeting
With device targeting, you can choose the "Form Factors," or types of devices that you'll be targeting, such as Smartphone, Web-Browser, Tablet, Smart TV, etc. This section includes thousands of devices and versions, if you don't have a specific one in mind, just hit "add-all" and move on.
Environment, Website and Connection Targeting
Get even more specific in your targeting by selecting the operating systems, browsers, and screen resolutions included in your campaign. You'll also decide whether you're aiming for ISP/Carrier connections or IP address.
You can create a whitelist (the ones you want to include) or a blacklist (exclude) of IPs. This is helpful, and you can do the same thing for website targeting.
If you leave website targeting disabled, you'll be targeting all of the network's websites. Choose "exclude websites" to limit some specific addresses or "include websites," to do the opposite.
Summary
In this section, the platform will calculate your position based on the bid you introduced and will provide you with information regarding the highest bids.
After you analyze the results provided for you, go back to your budget and adjust your bid based on what you see in the summary. If you want to start in the first position, you'll set a bid higher than what PopAds told you was the maximum offered.
Once you've got everything sorted, you just have to click "Create Campaign."
Campaign Reports and Optimization
Click on the "Reports" tab of the Advertisers Panel, then choose your date and time range. If you want, you can include additional filtering to see all of the campaigns for specific countries.
It's best to select a report for the specific campaign that you want to analyze. In the "Grouping and Ordering" section, you can choose how the data is presented to you. Once you do that, you'll be able to generate your report.
You can explore a variety of interesting statistics regarding the traffic that the website has and the bids. You'll be able to see just how many campaigns are targeting a placement so you can better understand your competition.
PopAds reports will also provide you the data in the form of a map, where you can visualize where the placement has more traffic. The map is accompanied by doughnut chars, which will show you the countries, languages, browsers, operating systems, and all other parameters that you are or could be targeting with your campaign.
PopAds for Publishers
PopAds terms are reasonably liberal, and the network is available for a variety of niche websites and blogs. This service approves even pages with free domains.
There's no minimum traffic requirement, and you can easily set your restrictions. You can choose to serve popunders that have autoplaying sound or video, or you can select additional popups and popunders.
You can select the category of ads as well as how the ads are inserted. Relevant ads will increase click-through rates, and making sure that they don't appear too often will help keep users on your page.
Tweak the frequency that ads show on your website so that you don't push away users, and you gain the optimum amount of exposure. If your metrics are right, you can earn a lot of money.
Reports
Publishers can find detailed statistics of ad performances in real-time. You can see a breakdown of filters for improved analysis and view the influxes in your earnings.
Earning Potential
PopAd's CPM (cost per mile) rate is one of the highest in the industry. For US traffic, the network has never paid less than $4 per thousand impressions. For worldwide traffic, publishers can expect anywhere between $.60 and $3.00 per thousand in worldwide traffic.
Payment Information
| | |
| --- | --- |
| Minimum Payout | $5 |
| Payment methods | Paypal, Payza, Payoneer, Bank Wire Transfer |
| Withdrawal Time | 24 Hours |
| Payment Frequency | Daily |
| Automated Payments? | Yes |
Referral System
Another major incentive to use PopAds is the referral system. Publishers and advertisers will receive ten percent of all of their referrals lifetime earnings.
Support
While PopAds doesn't offer up your own personal account manager, they do have a helpful and responsive support team. If you have a concern or question, you can email their network at support@popads.net
Pros and Cons
Overall, PopAds has a lot to offer website owners who are looking to sell space as well as advertisers who want to launch successful campaigns.
Pros
No minimum traffic requirements
Expansive inventory
Accepts worldwide traffic
$5 minimum payout
Fast payments
Liberal approval terms
Category based ad placements
Advanced targeting tools
Detailed reports
Cons
These ad types can get annoying for users
The Verdict
PopAds is a user-friendly, straightforward ad network that's great for publishers and advertisers alike. You can customize and tailor your campaigns, so you receive the ideal quantity and quality of traffic. Once your ads are up and running, it's simple and straightforward to keep track of metrics and adjust bids, categories, and other metrics as needed.
If you get the hang of PopAds, you're websites, blogs, and ad campaigns are sure to be a great way to make some serious cash.