The world of internet advertising isn't a piece of cake. If you want to manage a big number of campaigns you need some professional tools. Especially in affiliate world, if you run tens or hundreds of campaigns it is impossible to do it manually. If you're looking for information on how to increase your profits with PopCash, this article is for you. In this review you will learn how to create and optimize offer to earn even more.
So, what is PopCash network? If you are not familiar with that name, the simplest way to put it is: it is one of the most used traffic source networks. It provides a lot of useful tools, that let you optimize your campaigns and tracking which of them are profitable and which you should turn off or modify. PopCash uses CPM, CPC pricing model and it is a pre-paid platform.
What makes PopCash stand out among other platforms?
Pop traffic
PopCash is the platform that provides information on a particular type of traffic. It specialize in pop-under advertising – hence its name.
But the pop ads are passé – you may think. Well not exactly. They may be considered as not user friendly, but that type of advertisement still brings big conversions and gives you many opportunities in a field of devices. It is very important for affiliates. As you may already know, mobiles are growing trend in affiliate marketing.
What's more, the ads in this network are content driven – it means that they don't have the negative influence on UX. As you can see, pop ads help to increase earnings for both publishers and advertisers.
Clean and easy
PopCash is very easy to manage. You will create your first offer within few minutes, and with time it can take even seconds. The platform provides you with preset features. You will find there everything you need to start your ad.
Is it only for beginners then? No, not at all. Experienced users will find a lot of useful information, that will enable accurate analysis of their moves.
Support center
PopCash offers a very good support team, that provides help in setting and optimizing campaigns. Since the platform is still under construction mode (it doesn't mean that it does not work, it means they constantly make it better), not all the futures you may looking for are there to find. But you can always contact the support center to ask any question related to the platform, they will also give you some useful tips for your campaign settings.
How does it work?
As we already said, the user panel is clear and extremely easy to use. However you may not find there everything you are looking for, because they work on a platform constantly and provide new features with time. Is that a reason to worry? No! If you'll have any problems with the use of the platform, their customer service will help you to find the solution. You can contact them via skype or email (contact@popcash.net).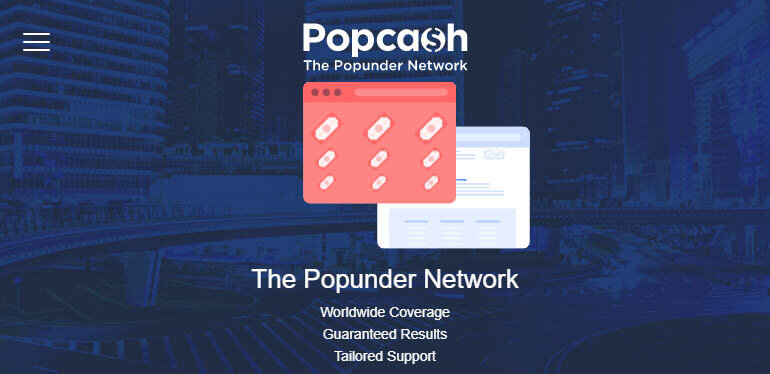 Dashboard
You will find here information about your offer and money (available balance, pending earnings, total earnings, last payment).
PopCash is a platform for both publishers (websites owners) and advertisers (media buyers, affiliates etc.)
As an advertiser, starting from the top, you will find such categories, as:
Campaigns
Create new one
Remove active ones
Check details
Reports
Analyze statistics
Use filters: time frame, number of impressions etc.
Reports History
Collect all data about your campaigns
Analyze them choosing specific time
Download your data (CVS file)
Below that section on the Dashboard you will find Referrals.
What is it? You can use the PopCash referral program, in which you can recommend the platform to your friends and family, and when they will become users of the platform, you will get the commission.
So what can you find in this section? Information about links used in the referrals system, your earnings etc.
As you can see, you may get more money by not doing much work.
Moving forward on the Dashboard, bellow you will find all the information about Billings, which means:
Transaction history
Amounts requested
The time of your requests
The payment status
The fees
The invoices.
Furthermore, Account manager lets you to manage your passwords and personal information as well as company data.
How to create the campaign in PopCash?
After you opened the account, you can set new campaign. Here's what you need to do.
Press Create campaign button, then:
Type the name of your campaign
Set the Landing Page URL (remember to ad tracking token)
Decide how much you want to spend, setting the overall budget and the bid (for 1 visitor)
Set your CPM (choose pricing)
Detail the Landing Page content information – here you should place the main data about your LP, according to User Experience. It means basically, that you should show, if your LP has a sound, contains adult or gambling content, contains software.
Now you should set the other campaign information:
Countries – create separate ads targeting different countries, the PopCash support team can provide you the information about the current traffic and the bids for the GEOs.
Network connection – WiFi, 3G, All
Categories – PopCash suggest to use the following, as the best converting ones: Entertainment, Dating, Stream video, Image hosting, File hosting, Video, Movies, Download
Devices – Desktop, Mobile, Tablet, TV, etc.
O.S. – Android, iOS, etc.
Browsers – Safari, Chrome, Opera, etc.
Languages
The Adult content – yes or no
The last step is deciding on how you want to publish your campaign. It has to be approved by PopCash team, then you can display it manually or previously chosen automatic mode (the campaign will start immediately after the approval).
After running your campaign you may check the reports and analyze, what does work and what needs to be changed. You can collect data by: day, country and website. You can also compare different campaigns, asking yourself, if the targeting is done well, if you chose the wright publishers, etc.
Summary
As we can see, there are a lot of reasons why PopCash is so popular. However, as every tool – it has some advantages and disadvantages. So in brief:
What do we like in PopCash?
Simple and easy to use
Self-service, what gives you a freedom of managing the campaign
Referral program which offers 10% commission
24/7 support via email and Skype
Payments that are made in a daily system (PayPal, Paxum, etc.)
What is not perfect yet?
The platform doesn't provide all of the attributes, however it is constantly improved and the support team is always for you to help.
We hope in our review you found useful information that will help to boost your online business fast.