Conducting any marketing activities requires an analysis of their effectiveness. You need to watch closely which of your campaigns are effective, and which only "eat" the budget, which channels work best and which are not worth investing in. That is the only way to achieve the intended effects and increase profits. This is particularly important in affiliate marketing, in which you often run even hundreds of campaigns at the same time. Therefore, using tools that allow you to analyze these indicators precisely is a saving live idea.
One of such tools is Voluum, called affiliate dream traffic software. The platform was created by the owner of zeropark.com and it's basically a tool, which lets you analyze and optimize everything about your campaigns.
Who is Voluum for?
It is a tool that is great for anyone who conducts a large number of campaigns on the Internet and generates relatively high profits. Voluum is not the cheapest platform, because it is designed for professionals and people who are serious about the profit. Who will benefit the most from Voluum?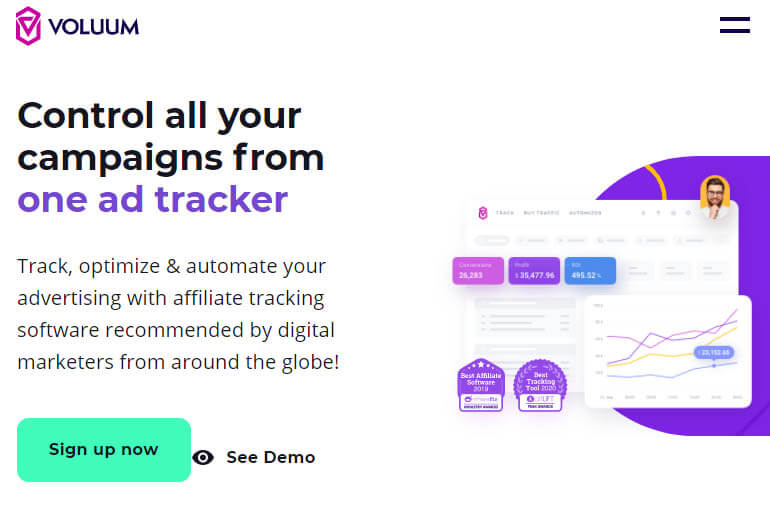 Therefore Voluum is best for:
Affiliate
Performance agancy
In house media buyer
Custom solution
What can you do thanks to Voluum?
Basically, you can analyze your moves, using a huge number of indicators, receiving data, that will let you to do modification in your campaigns and make them bringing you as much profit, as they can.
Tracking of the affiliate campaigns and collecting data

You can track a big number of offers that third party does for you
You may collect data from traffic (paid and organic) without the initial redirect
You can control your costs

Finding out what does and what doesn't work

You will receive over 30+ data points on every visit
You can connect data and make useful reports
The reports are generated instantly, so you can analyze a real-time campaign information

Modifying adverts and testing

Advanced targeting system will let you show your offer to the right people
The system gives you the opportunity to automatically spread traffic to the best parts of campaign
You can keep your eyes on the ball – custom notifications and stay tuned all the time

Protecting your profit

You can observe the quality of the traffic and avoid bots
You can safely share your data with other people and businesses.
How does Voluum work?
When you decide to sign in, after opening it, you will find yourself on the dashboard. Here you will find the tabs that can bring you to your:
Campaigns
Offers
Landers
Flows
Traffic sources
Affiliate networks
Conversions
Countries
Devices
Browsers
As you can see on the graphic below, you can enter to your information straight from the dashboard.
At the top of the dashboard you can check:
Visits
Clicks
Conversions
Revenue
Cost
Profit ROI
On the right, you will see an interactive graph with access to the overall performance parameters.
The left side of the page will bring you to your:
top campaigns (5 of them)
countries
traffic sources
offers
traffic sources
After clicking the Campaign tab, you will see the Main Menu panel, which is the one you will use the most. Here you can analyze all your campaigns.
Clicking on any campaign will bring you to the statistics of offers set in chosen campaign. It will also show you the report of various landing pages.
You can analyze your offers by any indicator, choosing from a big number of filters. Those are build based on a tree structure. You can check, which operating system works the best for your offers, which countries bring you the best results etc.
Obviously you can sort your data basing on one of the following:
predefined
self-set indicators.
If you decide to use your own terms of sorting, you need to set the traffic source. We will talk about it later in this article.
By using default mode, you can sort information, for example by your Affiliate Network, by City, Device, Browsers or Time.
How to set a new campaign on Voluum?
The platform is quite intuitive and easy to use. Once you get the scheme, you will do it fast and almost automatically.
To set the new campaign, choose New campaign tab and set the parameters:
Traffic source
Country tag
Cost model:
Conversion reporting

Traffic source postback URL
Pixel redirect URL

Workspace – choose Initial, if you don't use any
Tags – they will let you to find your campaign among others
Campaign destination
Defaul redirect mode

302
Meta refresh
Double refresh
Redirectless
Traffic source in Voluum
Voluum is connected to a large number of traffic sources. All you need to do is choose one of them. They have all the parameters you need already preset. You can check them by clicking in the Advanced Parameters. What you will find there:
Campaign ID
Variation ID
Domain
Keyword
Tags
Site ID
Zone ID
Category ID
Country
As you can see, you can analyze the performance of a specific ad for the specific site etc. You can combine filters to see even more specific statistics.
What to do, if your traffic source is not listed? You can add a new one. Here's how to set a new traffic source in Voluum:d
Choose the Traffic source tab
Click: New traffic source

Tap the name of your traffic source
Integrate the postback URL (Voluum will send you the information about the conversion from your affiliate network to your traffic source)
Save changes

Go to the Advanced tab to set the indicators – to analyze your campaign after it starts.
How to set the Offer in Voluum?
In menu Flow you will find New offer tab. Here you should do the following:
Tap the Offer name
Add the offer URL
Choose country
Set dynamic tracking parameters, that you want to send to the statistics of your affiliate network.
Choose the affiliate network
Set offer payout – automatically or manual
How to integrate Voluum with your affiliate network?
Choose Affiliate networks
Click: New affiliate network
Choose: New campaign
Here you can:

click on one of the listed networks
add new affiliate network
Advantages of Voluum:
As you may see, Voluum is a very useful tool, that provides many solutions that make it easy to run campaigns on the Internet. Here are some features that make it stand out on the market:
Self-sufficient – you don't need any additional equipment
Very fast – it analyzes hundreds of data in just a few seconds
4 data centers – they are located in 4 countries, which allows directing users to the nearest center and also providing smooth operation even when one of the centers faces some technical problems
Cloud hosting – CDN around the globe lets using this solution in any chosen country
Safe – Voluum protects your traffic from hacking
Easy to use – features are user friendly and easy to manage
Extensive statistics – you receive data about every component interested in terms of your campaign: country, operator, OS, type of device, conversion hour and IP
Cost optimization –precise information give you the opportunity to control and optimize your cost
Advantage testing – you can run split tests to check which of offers are the best; you can do it by directing your traffic to testing offers or partners
Al calculation – it lets you automatically define the best landing pages and optimize the traffic
Do we see any cons? Well, the platform is not the cheapest. What's more, the cloud hosting means, that someday you may loose all your data. However the number of advantages makes us to recommend Voluum as a useful tool, that will make your life as a affiliate a lot easier.